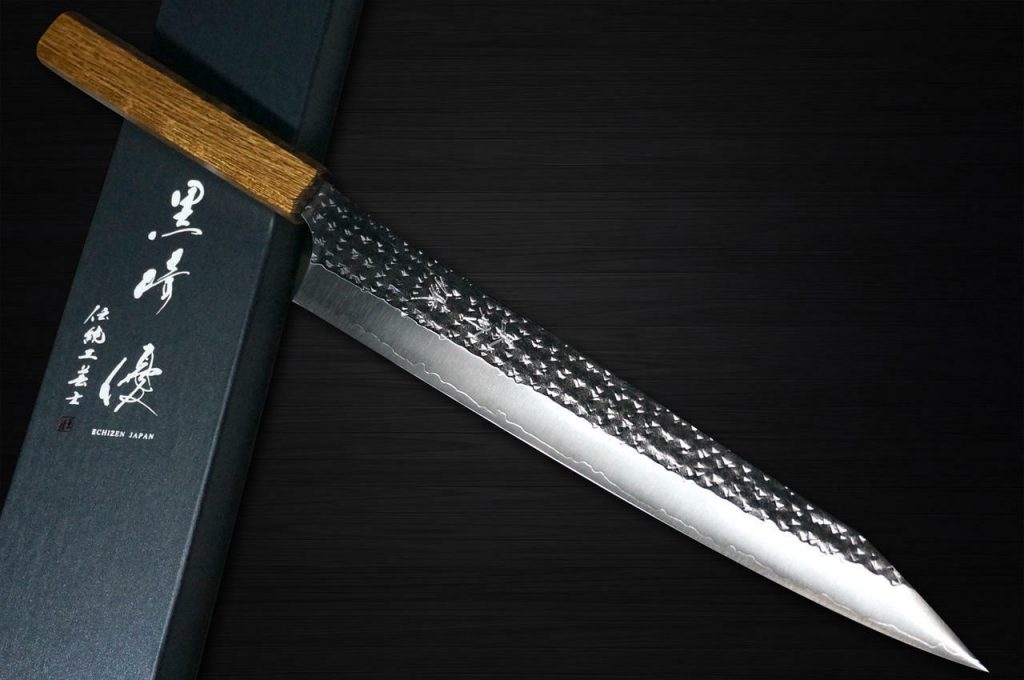 Yu Kurosaki R2 (SG2) Hammered SENKO-EI WA OK8B Series
The culinary industry puts Japanese cuisine up in its list of the world's most loved cuisine of all time for its intricacy, yet traditional ways. The Japanese aesthetics seen through vivid colored ingredients like orange, crystal clear caviar gems and paper-thin slices of Salmon placed on soft, bite-sized pieces of formed Japanese sushi rice attract huge amounts of food lovers from all parts of the globe, further making sushi a world phenomenon.
A variety of Japanese dishes and appetizers like Takoyaki, Yakisoba, Katsudon, Tonkatsu, and even the commonly known Japanese curry are popular dishes in various parts of the world – even in small towns and cities, Japanese food always has a spot and a place to offer food lovers and gourmets authentic tastes and scents of Japan through the fine selection of ingredients and unique seasonings. With this being a strength and a difference that marks Japanese cuisine as one of the most challenging foods to prepare, the skills and techniques required to master each every dish involves extreme determination, a deep understanding of the components that make up each dish or menu, and the passion to craft delicate pieces of art.
Although one might think cooking is just an act of putting things together and mix them all in a frying pan, Japanese food works differently. Intricate food preparation processes such as the mastery of knife skills, the selection of fresh quality ingredients, the forming of bite-sized Japanese rice pieces, the placement of food on the dish, and even cleaning up can be of more complication than other kinds of cuisine. With authenticity, traditions, and intricacy being the main components that make up most Japanese dishes, correctly utilizing Japanese knives will enable one to cook Japanese food, specifically sushi, with greater confidence.
Japan is home to numerous quality Japanese knife brands
Many of which are forged specifically for the making of Sashimi and Nigiri pieces. Most Japanese knives are forged to make sushi – there are various kinds of Japanese knives like Gyuto, Santoku, and Yanagiba. Among the famous brands, Yu Kurosaki and his crew made history with unique, yet high quality knife models professionals find wonderfully just right for their needs.
Sushi toppings like Sea Bass, Salmon, Fatty Tuna, and even Unagi Eel requires professional knife skills to ensure the slices of these raw ingredients are of proportional sizes suitable to be placed on top of the perfectly formed Japanese rice mixed with vinegar, sugar, and salt. Yu Kurosaki R2 (SG2) Hammered SENKO-EI WA OK8B is also one of the best-selling models Yu Kurosaki has released. With its sharp pointed shape, this series guaranteed extreme sharpness, while the blade's surface has an original hammered texture. Yu Kurosaki R2 (SG2) Hammered SENKO-EI WA OK8B is crafted with the Super Gold 2 micro carbide powder stainless steel, also known as the world's most durable steel and is indeed among the toughest blades ever existed. The handle itself is made out of the half-rounded octagonal oak wood-dyed Urushi, which also gives off the traditional Japanese vibes whenever it is held.
Confirmed long-lasting rust resistance, its high durability and edge retention feature further makes this knife series a big hit. Yu Kurosaki R2 (SG2) Hammered SENKO-EI WA OK8B knife series features a wide variety of designs and sizes, where each knife does a different task. For example, Sujihiki is a slicer, while Nakiri is mainly for cutting and chopping of vegetables. Therefore, Yu Kurosaki R2 (SG2) Hammered SENKO-EI WA OK8B knife series feature a wide variety of knife types professionals can choose from, in order to meet their needs for the crafting of different foods. The benefits of having this knife series in possession is its grip-comfort feature, efficiency, and beauty that comes along with originality.