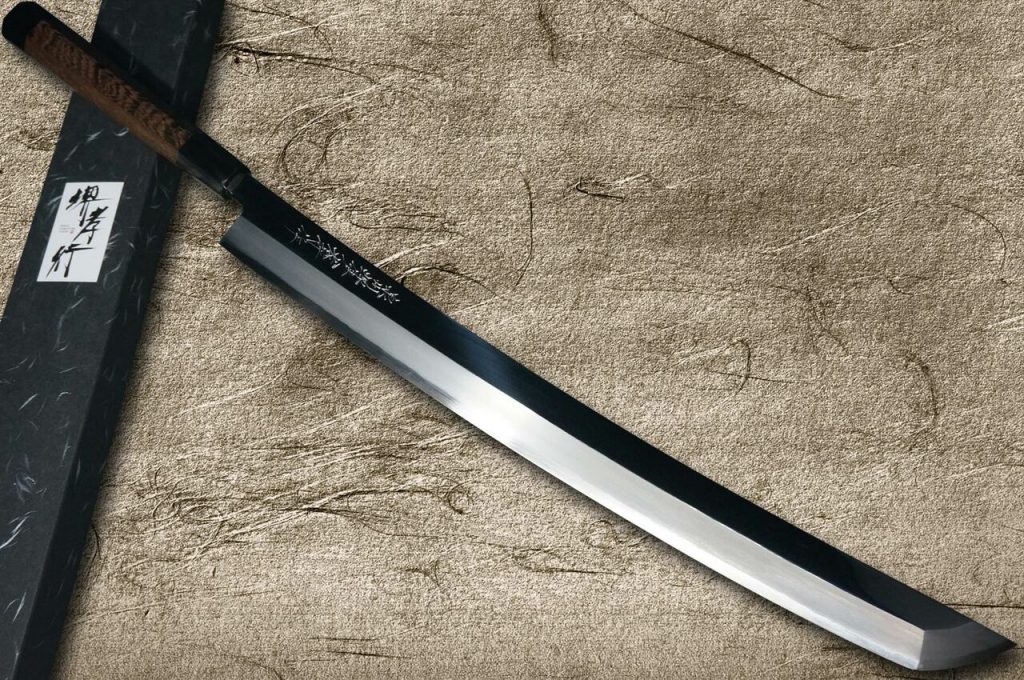 Yu Kurosaki VS Sakai Takayuki Knives
img by : hocho-knife.com
Japanese knives are known for the narrow, thin blade bodies that enables them to perform a variety of tasks such as: mincing, slicing, chopping, and cutting. Japanese blades are well known among culinary experts for having extreme sharpness that cuts through everything pretty easily – this makes it a perfect equipment to make thin slices of Sea Bass or vivid-orange colored Salmon to serve as among the best Sashimi dishes. With Japanese knives holding a high importance and significance in the crafting of delicate, yet exotic Japanese dishes like Sushi, (be it Nigiri, Maki, or Sashimi) the wise selection of a great Japanese knife will definitely aid in the process of cooking delicious Japanese cuisine.
Traditionally forged with true Japanese knife forging techniques, there are quite a few Japanese knife brands that tops the international charts with premium material quality, high performance, efficiency, comfort, durability, rust-heat resistance, and unique designs. Known to have the highest amount of hardness values (often between 60-62 HRC), Japanese blades are hand crafted and forged with best quality stainless steels and other high-purity materials, which further leads to the popularity and fame these knives deserve.
Among Japan's top-tier, premium quality knife brands, Yu Kurosaki and Sakai Takayuki are the two best-selling Japanese knife brands with a long, traditional history of over decades. Yu Kurosaki's knives are famous for their durability that comes along with fantastic, unique blade designs as seen in FUJIN or SENKO WA series. Sakai Takayuki, on the other hand, is famed for its creation of traditional blades with high efficiency for various kitchen tasks as seen in the popularity of its ZANGETSU Ginsan series, 33-Layer VG10 Damascus Hammered series, and the rare Honyaki Water Quench series. Although these two brands top the world charts for supreme quality, there is a duality – the vast differences between the two brands that distinctively gave them different pros.
Yu Kurosaki and his crew continuously comes up with new and unique designs for his masterpieces, so does Sakai Takayuki.
What makes them different? Well, Yu Kurosaki knives are often forged and crafted with a variety of handle materials and so does Sakai Takayuki; however, the Yu Kurosaki often associates his masterpieces with octagonal shaped Oak wood or Rose wood dyed Japanese lacquered Urushi. Meanwhile, Sakai Takayuki utilizes more variations of materials including: Turquoise, plastic, Red Ebony wood, or Micarta. Yu Kurosaki often features Japanese traditional designs like pouring rain, firecrackers, and winds. Sakai Takayuki, though, often releases more blades without hammered textures compared to that of Yu Kurosaki's.
Sakai Takayuki blades and Yu Kurosaki blades are considered the two main competitive brands in the Japanese knife market. As these two manufacturers both product premium quality knives suitable for the crafting of all Japanese culinary arts, users and professionals will have to select upon a knife model or series that serves all tasks and meets all their personal needs best.
Both brands offer all kinds of knife types ranging from Chef's Gyuto Nakiri. Without much thought, users can browse through a wide variety of knife types each brand has to offer, then scan through which model catches the most attention. Look at each knife's description to see the dimensions, the features, and read through all you need to know about each model before making a decision. As each brand has its own uniqueness that can truly be hard to compare, it is best to wisely scan through the ones you favor most, then see which model would most likely be able to perform all the tasks required to craft your delicate dishes and delicious Japanese cuisine.