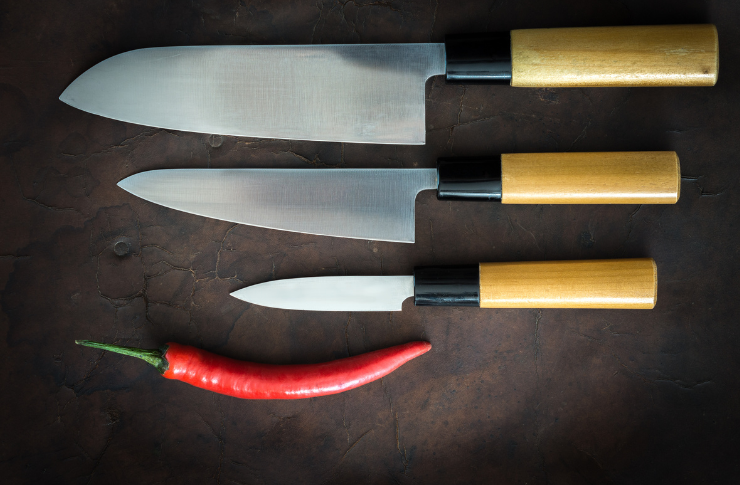 The Unique Features of a Good Knife
Whether in a professional kitchen or at home, a good knife is an indispensable tool. Here's what to look for in a quality knife:
High-Quality Materials: Good knives are typically made from high-quality materials. High-carbon stainless steel is a popular choice for blades due to its rust resistance, durability, and sharpness.
Sharpness and Edge Retention: A good knife boasts exceptional sharpness and superior edge retention. This allows it to make precise cuts, makes it safer to use, and requires less effort to cut through food.
Balance: A well-balanced knife ensures a comfortable grip and better control, making cutting tasks easier and safer. The weight should be evenly distributed between the blade and the handle.
Comfortable Handle: A quality knife has a comfortable handle that fits well in the hand. This is important for safety and efficiency, particularly when using the knife for extended periods.
Versatility: A good knife can handle a range of tasks efficiently, from slicing and dicing to mincing and chopping.
Durability: A quality knife stands up to regular use without its performance deteriorating. It should be sturdy and able to withstand various types of cutting tasks.
Easy to Maintain: Good knives are easy to care for. They should retain their sharpness for a long time with proper maintenance and should be easy to clean.
Craftsmanship: Good knives reflect great craftsmanship. Whether they are mass-produced or handcrafted, they should showcase precision and attention to detail in their design and construction.
In conclusion, a good knife is a true companion in the culinary world, enabling chefs and home cooks alike to carry out their kitchen tasks with precision, efficiency, and satisfaction. Choosing a quality knife is an investment in long-term cooking pleasure. After all, as the saying goes, "A good knife is a chef's best friend."