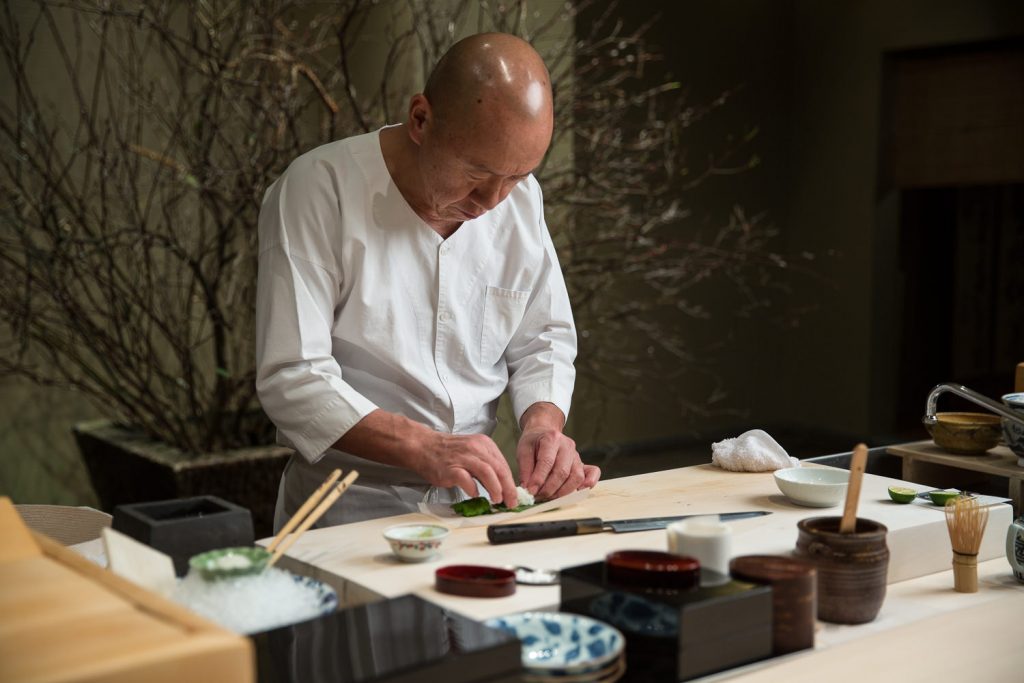 History of japanese CHEF MASA
credit : https://foodion.net/
Masayoshi Takayama's love for food started at a young age while working for his family's fish market in Tochigi Prefecture, Japan. During his early years, Takayama's duties included delivering fresh sashimi to neighbors on his bicycle as well as prepping and grilling hundreds of fish courses to cater weddings while in high school. Cooking and food have always been part of his life since his early days. Today, he is the proud owner and head chef of Bar Masa (located next door to Masa), and is also head chef at Kappo Masa, located at 976 Madison Avenue, a restaurant he cofounded with famed art gallerist Larry Gagosian.
Prior to becoming a master chef himself, Chef Masa apprenticed under the direction of sushi master Sagiyama Toshiaki at the famous Ginza Sushi-ko in Tokyo. It was here where he would undergo intense training which would provide him with the invaluable experience which would inspire him to think of food and dining as an all-inclusive experience.
One of Masa's boyhood ambitions was to travel to the United States and start a small, casual restaurant serving both traditional and modernized Japanese dishes. When Masa first arrived in the United States, he started a small 9-seater omakase restaurant in Beverly Hills which he would name after his mentor, Ginza Sushi-ko. Fast forward to 2004, Takayama would open his renowned Manhattan restaurant Masa and Bar Masa at the Time Warner Center.
SHIBUI
Chef Masa describes the omakase dining experience at Masa as "shibui", which translated to an expression of subtle beauty and timeless refinement. The food is the centerpiece, but the ambiance and environment are just as much a part of the overall experience. The sushi counter at Masa is made of a solid piece of Hinoki cypress, which is sanded daily to a soft, porous state which provides a feeling of both visual and sensual satisfaction for guests as soon as they enter. Seasonal plants are laid throughout the restaurant and arranged daily to highlight the beautiful imperfections of mother nature and offers a different perspective from multiple different angles. The décor is simple, and this acts as a blank canvas on which the food will be allotted the space to shine. You'll find the courses here are built on the freshest of seasonal ingredients.
Having just 26 seats in the restaurants, reservations are required, and Masa's temporary operating hours for indoor door are Tuesday to Saturday, from 12pm to 2pm, and 5pm to 10pm. The restaurant is closed on Thursday for lunch and is also closed on Sunday and Monday. Masa currently only accepts reservations via email or through the restaurant reservation website Tock. The price for omakase is $650 per person, before taxes, beverages, and any extras. Tipping is not required and is included in the price per person and will be respectfully declined by the staff. The full dining experience lasts approximately two hours. Dress code is casual and comfortable.
Additionally, Masa offer Hinoki Counter Experience. This experience is $800 per person, not including beverage and tax. This reservation guarantees seating at crafted sushi counter with one of our highly skilled sushi Chef's. This also includes their signature A5 Wagyu Ohmi Beef Tataki with freshly shaved seasonal truffles. Same as other authentic Japanese restaurant, gratuities are not expected or accepted at Masa. As mentioned, cash and credit card gratuities will be respectfully declined. Masa asks that guests limit the amount of perfume they wear, as to not interfere with the dining experience of other guests.